Stone Cleaning Powder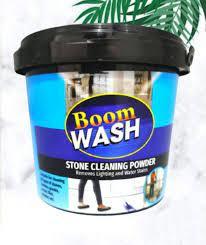 Stone Cleaning Powder
Product Description
Instantly remove stubborn and deep stains on all stone surfaces with the granite and stone stain remover!
-No damage to stone surfaces- Clean all types of stone surfaces safely! It can easily decontaminate and remove grime, soap scum, hard water spots, food stains and more! Features a formulation that will not damage or dull your stone, leaving it looking clean and polished!
-Zero-rinsing needed- No need for vigorous scrubbing nor rinsing! Just place powder over stain. It will reabsorb stains out of all-nature stone surfaces including granite, marble, limestone, slate, travertine, soapstone, flagstone, and concrete! It even absorbs mildew stains out of grout!
-Simple and safe to use- It's 100percent safe and environmental-friendly! It does not require mixing of harsh solvents thus zero-fumes, no skin burns! Perfectly safe for home and indoor use. A great alternative to corrosives!
-Make those stone surfaces look new again with the granite stone stain remover!
Contact Us
Matru Chhaya, 5 Patel Colony, Road No. 2/3 Jamnagar Gujarat India 91-93276-90420
Phone :09327690420