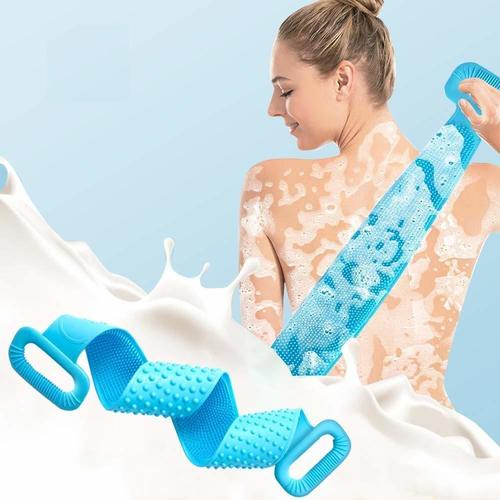 Silicone Double Sided back Scrubber
Product Description
Soft Silicone Bristles : The bristles side of the back scrubber are made of silicone, which helps you exfoliate the skin and get a deep cleansing.


Reliable Material : Adopted top-quality of food-grade silicone, 100% body-safe, odorless and durable in use. The silicone material is acid resistant and can use with soda water, essential oils.


Extended Length : The ultra long length of the body scrubber, combined with the handles at each end. Not only ensures anti-slip and comfortable grip, but also allows you to massage and clean your back and other hard-to-reach body areas with ease.


Deep Clean : Your Skin Silicone shower brush remove makeup, dead skin cells, dirt, and more with ease! The silicone bristles are soft enough for providing your tender skin with added care and superior cleaning experience. Use on your whole body—face, back, thighs, butt, chest, feet etc.


Best Result : This wash brush will give you a comfortable massage feeling when you use it to scrub your body -- perfect to relax muscles, relieve stress, release metabolic waste and toxins, promote blood circulation as well as increase the elasticity of your skin.
Contact Us
Matru Chhaya, 5 Patel Colony, Road No. 2/3 Jamnagar Gujarat India 91-93276-90420
Phone :09327690420